Here what's in store for you this week:
Supporting Navalny now makes you part of a cult, as the anti-corruption activist joins the ranks of western favourite 'Siberian Jesus', aka Vissarion under new charges;
We crunch the ever-vague Russian domestic violence figures;
And then, we crack open mysterious Stalinist archival material, signed by the dictator himself.
Want to get the full story? Click the links below for full-length articles in Russian.
Messiah Navalny
Is Navalny the messiah or just a very misbehaving citizen? The Kremlin can't seem to decide, tangled in vast swathes of its own bizarre regulatory red tape — but that does not make it any less dangerous. Now, the state seems to be seeking a prolonged sentence for political opponent and anticorruption activist Alexei Navalny, currently already imprisoned and severely weakened from an assassination attempt and hunger strikes.
THE NAVALNY 'SECT'. The government has charged Navalny with founding an organization that "encroaches on the identity and rights of citizens" — a Russian law often used against religious and pseudo-religious sects. This means he is facing a further three years in prison. Navalny was sentenced for 3.5 years of jail earlier this year.
INVESTIGATIVE COMMITTEE USUAL BS. The Investigative Committee report claims that Navalny, and two others, on behalf of the Anti-Corruption Foundation (FBK), called on Russians directly to participate in the mass protests sweeping Russia last January. Then, thousands of Russians united opposing his arrest — but at least 3,500 protesters subsequently ended up arrested themselves amid a brutal new crackdown — a record, at least in recent years. "Navalny was fully aware of the illegal nature of the planned rallies in light of the restrictions imposed and the lack of a greenlight from the authorities," alleged committee spokesperson Svetlana Petrenko, in comments to state newswire TASS.
'HABITUAL ARBITRARY APPLICATION OF LAWS'. This past week, Novaya spoke exclusively to lawyer Vadim Prokhorov, who also represented Boris Nemtsov prior to his assassination. He tells Novaya that the arbitrary application of Article 239 is a clear reason for Navalny's team to appeal to Strasbourg on the basis that it violates the European Convention on Human Rights.
"Apparently, investigators were just sitting and flicking through the Criminal Code to see how else they could charge Navalny and his closest employees. And they could not have found anything more suitable or ridiculous," he says.
BACKSTORY. Many have fallen victim to this bizarre law amid a broader crackdown on religious groups that for whatever reason, are disliked by the state. Since 2009, some 14 people have been indicted under Article 239: towards the end of last year, 'Siberian Jesus' Vissarion was detained. Mikhail Ustyantsev, who led the Russian branch of the Aum Shinrikyo Japanese doomsday cult was another, as well as Andrey Popov, or, "Kuzya", and psychiatrist Vyacheslav Vesnin from the "Self-Improvement School". In 2012, the head of the Ufa branch religious sect 'Orda' was fined 100,000 rubles thousand rubles (then, around $2,000). Members of the sect summoned the spirits of the dead in cemeteries in order to cleanse themselves and heal from diseases. Jehova's Witnesses have also suffered a brutal crackdown in recent years. The religious/pseudo-religious divide facilitates state claims that groups "cannot really be called a religious sect" but are really "a commercial cult organized like a pyramid scheme," according to reports.
Crunching Domestic Violence Stats
Two thirds of women killed in Russia die at the hands of their loved ones, according to a new Novaya Gazeta data investigation. Amid constantly conflicting domestic violence statistics, we have managed to establish that the most dangerous place for a woman in Russia is in her own home. How did the country become a world leader in domestic violence?
81% KILLED BY A PARTNER. Of the 12,209 women who died from domestic violence between 2011 and 2019, 81 percent (around 9,868 women) were killed by their partners. But the real number of women who died across that period is likely considerably higher. The remaining 19 percent of women still die at the hands of their relatives, we found after analyzing vast swathes of publicly opened statistics. The Russian state does not provide any real domestic violence numbers so we had to stitch the picture from various data fragments.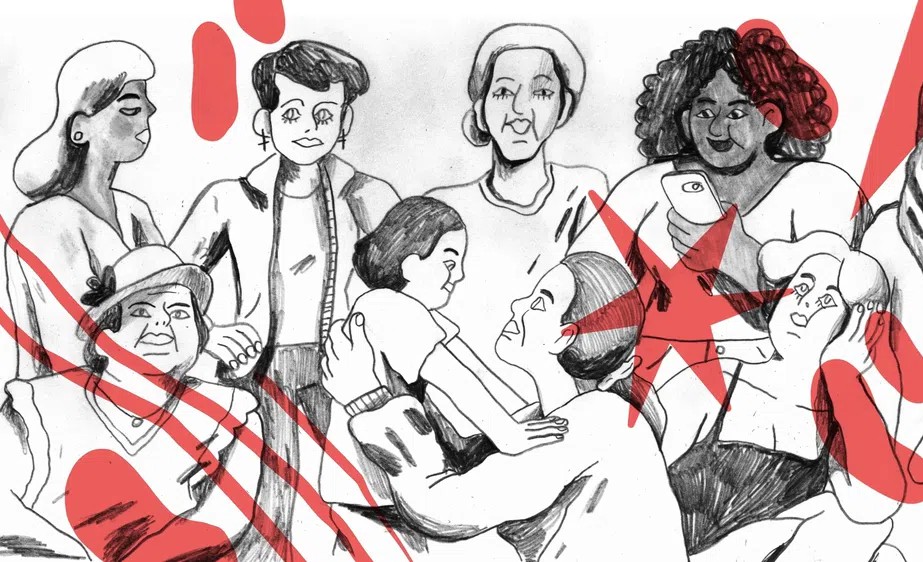 Illustration: Daria Gonzo
IGNORED BY POLICE. Police in Russia tend not to take reports very seriously — and some are even perpetrators themselves, such as officer Sergei Gusyatnikov who stabbed his wife Elena more than 50 times after learning that she wanted a divorce. Another woman, Ekaterina Telkina was brutally murdered in mid-March 2020 in her own apartment in Moscow. Prior to her eventual death, her housemate repeatedly filed statements about the beatings. Nothing happened. On the day of the murder, neighbors called the police, hearing screams and requests for help. Police just stood by the doorway and drove away. Her body was found by her brother.
NO DOMESTIC VIOLENCE LAW. Russia still lacks any basic legislative framework that might be able to protect women. No law on the prevention of domestic violence has been adopted and, as a result, there is no state-recognized definition of domestic violence. Moreover, the Kremlin is actively dismantling last pieces of protective laws in a larger conservative push to restrict gender equality. In 2017, domestic abuse causing "minor harm" was decriminalized. Later, in 2019 the Russian government tried to put together a draft law addressing the issue. But human rights defenders heavily criticized it for being too weak. The draft law was shelved due to the pandemic.

THE PANDEMIC CAUSED A HUGE INCREASE IN DOMESTIC VIOLENCE INCIDENTS. In July 2020, in a joint report, several human rights organizations in Russia stated that the number of requests for domestic violence assistance in Russia had increased 2–2.5 times.
BACKSTORY. Mapping the extent of domestic violence in Russia is notoriously tricky, with the prevailing societal attitude being 'he beats you because he loves you.' In the 'hyper-macho' culture of Putin's Russia, the Russian government insists that domestic violence issues should be sorted out privately within the family. Previous data (2018) collected by human rights defenders suggest that approximately 5,000 of the 8,300 Russian women killed over that year died at the hands of their partners. The Ministry of Internal Affairs reported that only 253 women were killed as a consequence of domestic violence. The Russian Ministry of Justice claims that domestic violence figures are exaggerated or inflated artificially. Endemic domestic violence in Russia exists within the larger context of unaddressed femicide in the region, where patriarchal structures are still widespread and violence in the home is frequently normalized, leaving many women afraid to seek help.
Read our full project, here.
Russia Ablaze
Despite nonstop media coverage for the past couple of months, Russia is still mired in the haze of mass fires. This week, we published an exclusive interview with Grigory Kuksin, head of Greenpeace Russia's firefighting division, who gives us an update on the situation in Yakutia and tackling the blazes amid the pandemic.
LARGEST RECORDED IN NATIONAL HISTORY. Russia had to expand its state of emergency this week as the devastation continued to spread, covering more than 17 million hectares, beating the previous all-time-high in 2012. NASA has estimated that the fires measure 2,000 miles in diameter from their satellite monitoring — burning with a severity that the government can no longer ignore.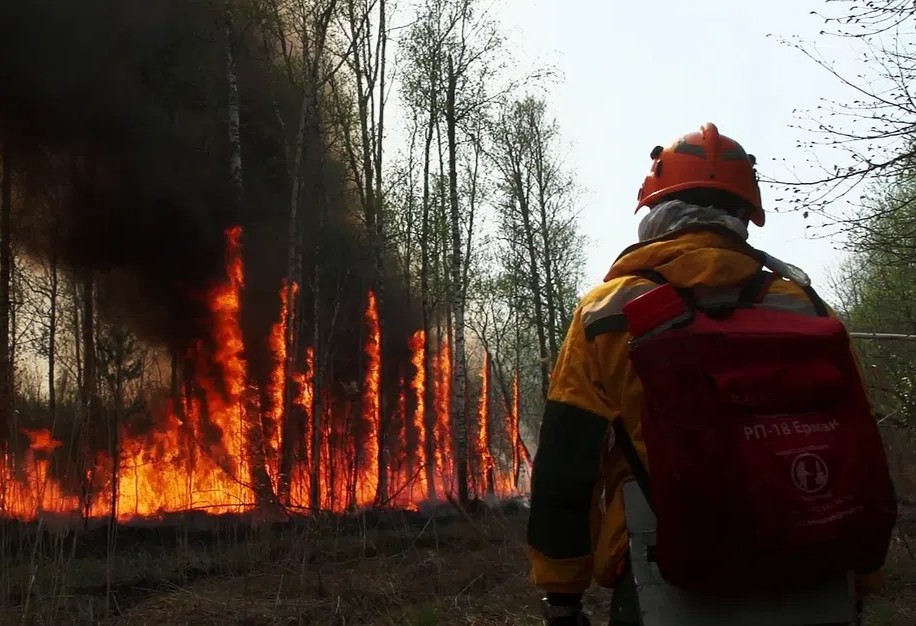 Forest fires in Yakutia. Photo: RIA Novosti
THEY TOLD US, HELP IS UNNECESSARY. "We were told, there is no need to help … peat bogs started burning in August, we answered they have been burning since springtime, they did not believe us." Thus begins a monologue from last year's performance, 'Kind People'. Facts and fiction blend together as rampant denialism becomes a clear factor in the spread of mass fires — a prophecy that this year became all too true. Journalists write about the burning regions but Russian officialdom turns away. "They took journalists to a different area where it wasn't burning and said: Greenpeace deceived you," the fictional Kuskin recalls. Staged in February last year, this play predicted the future with unsettling accuracy.
MAN-MADE FIRES STILL AN ISSUE. As previously reported, the human factor plays a role in the spread of the fires — especially in the case of Lake Ladoga's peat bogs. Kuksin recalls how important it is to be aware that the most miniscule spark can create a disaster. "When I saw a speck of burning grass on the side of the road, I stopped, got out of the car, stomped on the fire with my boots and drove on …. If I stamp out a fire within one square meter, it means that all that I see from here to the horizon is what I managed to save."
"Over the years, I began to appreciate the small fires that were prevented from flaring up," he adds, mentioning an information campaign to inform kids about fire safety — how to prevent a fire, call for help, etc. "We also conduct large information campaigns, and it clearly works as the number of fires is decreasing in the regions in which we have worked. This is real fire prevention if you keep in mind that they are caused by people in nine out of 10 cases."
STATE STILL LACKS CAPACITY TO FIGHT FIRES EFFECTIVELY. Kuskin speaks highly of the volunteers who have been helping fight fires in recent months. "They are all bright and honest people … doctors, car mechanics, storekeepers — enormous diversity. For example, Sonya Kosacheva works in our department, she is an opera singing teacher … Olesya Volkova is a graphic designer and illustrator. She was with us in Yakutia."
BACKSTORY: Over the past couple of months, Siberia and the Russian Arctic have experienced vast, devastating forest fires provoked by changing climate patterns, which we have written about in previous editions of this newsletter. The most hellish situation has been in Yakutia, where 1.5 million hectares of forests have disappeared after several weeks of blazes. Around 120 fires are still burning across the country, and the air is thick with smoke. There are simply too many sites to cover at once and Russia is being forced to rely on volunteer firefighters in the absence of state support and finances.
Other Top-Stories We Liked This Week
In lieu of a bonus section this week, Novaya Gazeta is bringing its loyal readers news of our recent series, in which we are publishing sets of documents signed by Stalin, fresh from the Russian State Archive of Socio-Political History (RGAPSI). At the very heart of our special column is a five-volume book of documents apparently signed by the Soviet dictator himself, recently published with the aid of RGAPSI Director Andrei Sorokin. In this new series we explore several different themes with the aid of the newly-available archival material. Among them are documents that show wives who snitched on their husbands wouldn't be subjected to arrest, an extremely crude and violent sketch by Soviet official Valery Mezhlauk ("For all current and future sins, hang Bryukhanov by the balls; if they survive, consider him acquitted"), and how rural farmers were sentenced to be shot. On the surface this may be a long-gone period, forgotten by many and of interest to few Russians. But we still often hear the reproachful phrase: "Stalin would have sorted you out!" The Stalinist era's trademark authoritarianism is making a strong comeback amid spilled blood, broken relatives and the mass departure of political opponents. Perhaps these documents help shed light on how, and why. History doesn't repeat itself, as they say — but it does rhyme. Read our first three stories: Read our first three stories: