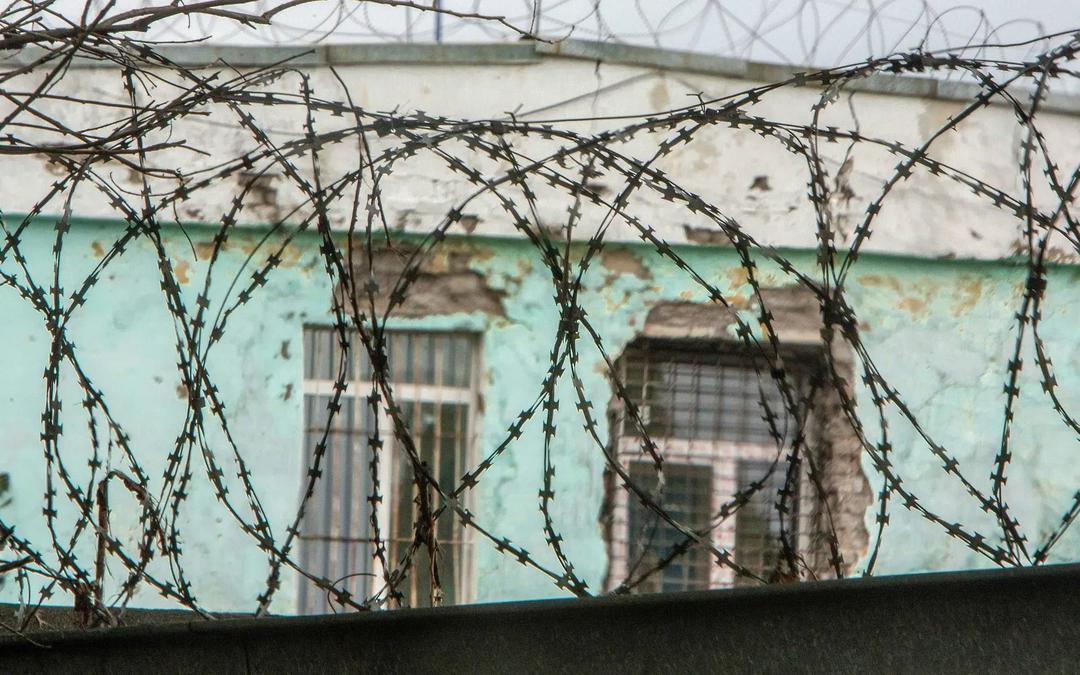 Photo: Sergei Metelitsa / TASS
Here what's in store for you this week
— Amid international attention to Navalny's imprisonment, we publish more evidence of torture in Russian jails; — The billions that the Kremlin spent on 'patriotic education' to discourage young Russian from criticizing the government were a total waste of money — we have the receipts; — Plus, our resident economist explains why Russians should be worried about the Kremlin's newest pension plan. **Want to get the full story? Click the links below for full-length articles in Russian.**
More Torture in Prisons, Exposed
We've been covering this case for two years now, and the evidence continues to pile up. Despite this, the authorities keep turning a blind eye in a stark illustration of the crisis of abuse within the Russian jail system. This week our investigative reporter Olga Bobrova publishes new evidence of torture from the infamous penal colony just 250 km north of Moscow.
IT ALL STARTED BACK IN 2018 when we uncovered the torture of Evgeny Makarov, a prisoner in Yaroslavl's IK-1 jail. The incident — allegedly recorded because the head of the prison staff wanted proof that the torture was carried out — implicated 15 penal colony employees who ultimately received suspended sentences for what happened. The penal colony's leadership avoided all punishment. Now we obtained new video evidence that prisoners in the same prison keep getting tortured.
TORTURED TO DEATH. One of the individuals who appear in the new video is no longer alive. He died in a local hospital after being tortured in jail. In fact, he was tortured so severely that for days after his death, the authorities refused to give his body to his relatives. When the family eventually obtained his remains, he missed some of his internal organs, the victim's brother claimed.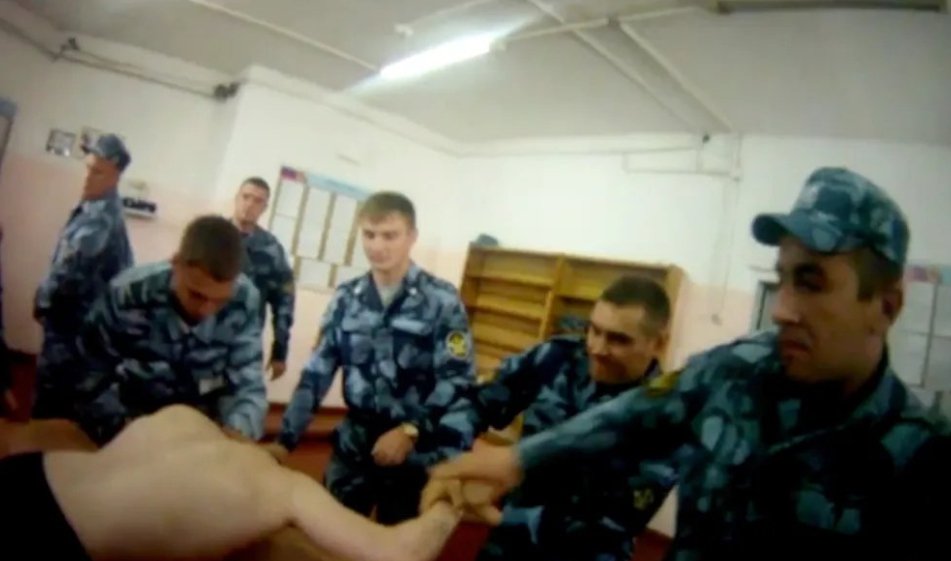 IK-1 officers beat a prisoner
A SURVIVOR COMES FORWARD. The second individual is still alive and is willing to testify publicly. He appears in a video being tortured only two weeks before his release. Now he agreed to tell Novaya his story on one condition: we hide his face and protect his real name. We use the pseudonym 'Andrei Ivanov' to conceal his identity.
SEARCHES OFTEN ESCALATE TO TORTURE AND ABUSE. The negligent handling of prisoners' personal belongings, including religious objects, has been a characteristic feature of the searches in penal colonies across Russia. Ivanov recollects the episode when a group of special forces entered his prison and searched all of the cells. In one case, correctional officers threw a bible on the floor and trampled a letter from a prisoner's mother. Similar things have happened to Muslim prisoners, including Ivanov.
"They threw all the food on the floor, began to throw things around. I'm a Muslim. I cannot touch the Koran without washing. I expressed outrage when they started throwing our food and throwing the Koran on the floor. I am not the scum of the earth. Yes, I am condemned for what I have done, but they cannot do that to my things," Ivanov tells Novaya.
A BRUTAL ACCOUNT. In the video, we see Andrei Ivanov (the victim's pseudonym) trying to defend himself. He even makes references to the Russian criminal code and the constitution. But the jailers ignore his pleas and strip him naked instead. They then lay him down on a desk and beat him with truncheons on his legs and buttocks. These recent videos are the eighth or ninth torture videos from Yaroslavl IK-1 obtained by lawyers in recent years. Five criminal cases were initiated based on these videos, but not all cases reached the courts.
BACKSTORY. Russia has one of the highest incarceration rates globally (26th ) and the 4th largest prison population (half a million inmates). On top of that, the country's penitentiary system suffers from chronic underfunding, corruption, and widespread abuse. Tens of thousands of prisoners languish for months or years without being charged with a crime. Even before the COVID-19 pandemic, Russia's penitentiary system has faced scrutiny for its horrifying conditions. In particular, Novaya Gazeta has continuously worked to expose the widespread use of torture in Russian prisons. During the ongoing pandemic, Russian officials failed to safeguard the prison population from deadly COVID-19 outbreaks, forcing inmates into further 'hyperisolation.'
Read our full report on the videos we uncovered (or watch them yourself) here, and read our update on Ramzan Kadyrov's alleged involvement here.
Failed State Brainwashing of Young Russians, Exposed
The widespread protests in support of jailed opposition leader Alexei Navalny marked the ascendance of the so-called 'TikTok generation' to Russian politics. Hoards of young Russians use TikTok, which has been overlooked by state censors (for now), to manifest their political opposition to Putin's rule. The Russian segment of TikTok is explicitly political and thriving — and Novaya's TikTok rides the wave with a strong game — but it is also a manifestation of how the Kremlin is losing ground with young Russians. It is happening despite the billions of dollars that the government invested in 'patriotic education' (read 'pro-government brainwashing') of the Russian youth in recent years. This week our investigative data unit examines the receipts.
THE PROPAGANDA INVESTMENT THAT BACKFIRED. Russian authorities have been expressing a lot of frustration about the Russian youth's involvement with the solidarity rallies. Police even opened a criminal case against Navalny's ally Leonid Volkov allegedly involving teenagers in the protests. Russian President Vladimir Putin compared the protesters to terrorists who "push minors forward." But in reality, the Kremlin just deflects from its own failure to recruit young Russians. The government has been doling out a lot of taxpayer money for 'patriotism' projects in recent years. Guess it is not going great, is it?
FOR MANY RUSSIAN CHILDREN, 'PATRIOTIC EDUCATION' BEGINS IN KINDERGARTEN AND CONTINUES THROUGH SCHOOL YEARS. The curriculum is often filled with government-friendly rhetoric and rewritten history that serves the state propaganda goals. According to our estimates, the government spent at least 73 billion rubles (around $1 billion) on 'patriotic programs' for young Russians between 2015 and 2020. This is comparable to an average annual budget of a mid-size Russian region. It is also 2.5 times higher than annual state spending on housing for orphans.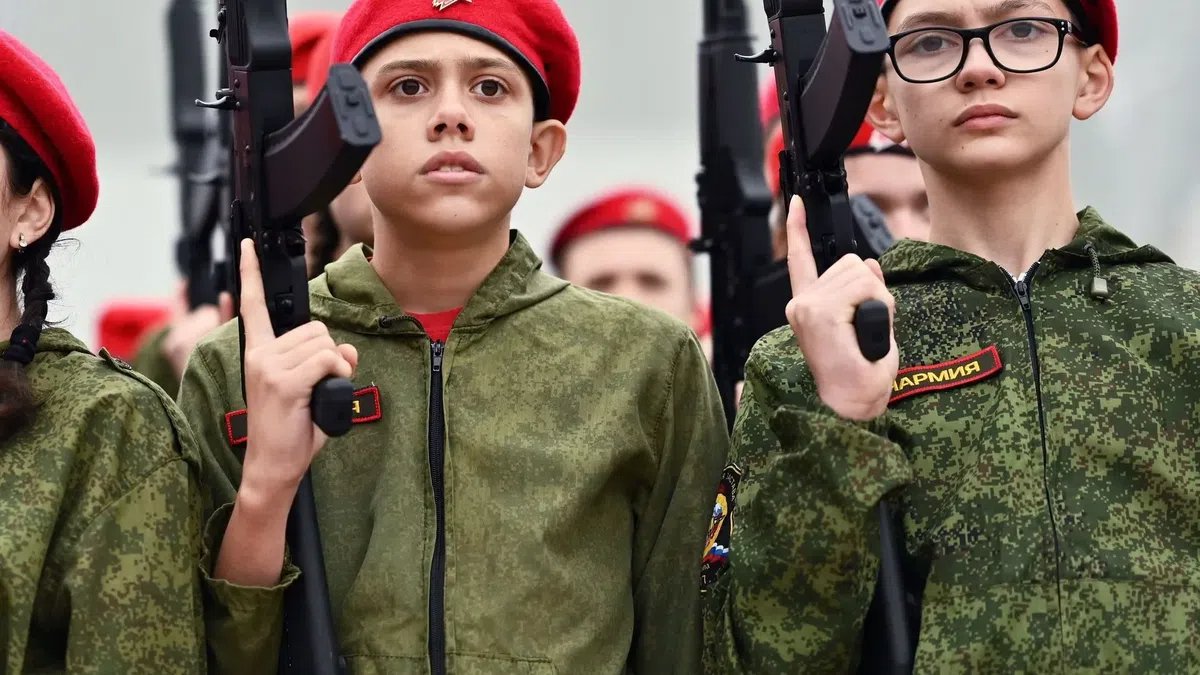 Photo: RIA Novosti
THE PRICES:
The construction of Patriot Parks across Russia, 31 billion rubles ($415 million)
The creation of "Russia is my history" parks, 5 billion rubles (around $67 million)
The construction of the military-patriotic education center Avangard inside Russia's Patriot Park, 4 billion rubles (over $53 million)
The construction of the patriotic youth center Mashu in Pyatigorsk, 1.9 billion rubles (over $25 million)
AS PUTIN RATINGS STARTED TO DECLINE, THE KREMLIN DOUBLE-DOWNED ON' PATRIOTISM EDUCATION.' From 2016 to 2020, the budget allocations for federal programs focused on 'patriotism' grew 40 fold, from 280 million to 11.3 billion rubles. This figure does not consider regional governments' expenses, the construction of large patriotic projects like the Patriot Park near Moscow, or presidential grants. "We cannot have any other unifying idea other than patriotism. Patriotism is the national idea….We need to talk about it constantly, at all levels," Putin told a group of entrepreneurs in 2016. During the same period, the Russian leader's public approval went from all-time highs of 90% in 2014 to all-time lows of 59% in 2020.
2019 WAS A WATERSHED MOMENT. It marked a significant increase in funding for 'patriotic education.' Two significant events provoked this: schoolchildren and students' mass appearance at anti-corruption rallies and the presidential elections. In 2018, after yet another victory by Russian President Vladimir Putin, a federal agency Rosmolodezh, then in charge of the patriotic education program, was put under the government's direct control. Sergei Kiriyenko, the first deputy head of the presidential administration, took over the government's youth policy.
REGIONAL GOVERNMENTS ARE SPENDING A TON on patriotic programs for youth. The largest expenditure on patriotism in the regions (25.2%) is the purchase of vouchers for patriotic camps. Almost the same amount (24.8%) was spent on holidays, festivals, excursions, and military-historical reenactments for young people.
EVEN GOVERNMENT AUDITORS HAVE QUESTIONS about the effectiveness of such large-scale spending on Russian youth's patriotic education. According to Russia's Accounts Chamber, officials have reached only 1 out of 10 goals with these programs between 2016 and 2019. Moreover, some of them had bizarre benchmarks. For example, the government promised that 130% of all educational organizations would participate in the program. The outreach will target 200% of Russians. That math might have been a bit off. Some projects were also marred by waste and corruption.
SOCIOLOGY ALSO INDICATES THAT THESE PROGRAMS DON'T WORK. "Our research since 2017 shows an increase in patriotic feelings among young Russians, but they are manifested differently from the militarism that the government is promoting. Rather, there is an increase in feelings of citizen solidarity and sensitive attitudes towards injustice. Youngsters are more concerned with inequality, rudeness, or untruth," says Elena Omelchenko, a sociologist and director of the Center for Youth Research at the National Research University's Higher School of Economics.
"All of these programs promote the idea of ​​sacrifice, heroism, and struggle, although it is not always clear with whom and why one should actually fight. We know that adolescents react to such an imposition of patriotism negatively or pragmatically - you need to participate so that you don't have problems. But this is not cool. It is not fashionable," Omelchenko explains.
YOUNG RUSSIANS WANT OUT. Sociologists have recently observed an increase in young people's desire to emigrate. In 2019, the Levada Center reported that 53% of respondents aged 18-24 would like to move abroad. According to Omelchenko, this is due to the "collapse" of job prospects and opportunities for self-realization in Russia, in addition to political pressure.
DESPITE QUESTIONABLE RESULTS, 'PATRIOTIC EDUCATION' IS HERE TO STAY. Starting in 2021, the Ministry of Education will be in charge of patriotic education and will be awarded a significant budget for its efforts. Full-time educational advisers will be placed in schools around the country starting this year, a Ministry of Education official told us. The government has launched a new federal project called "Patriotic Education for the Citizens of the Russian Federation," which will be implemented from 2021-2024. The project will get the equivalent of around $47.5 million a year.
Read our full data investigation on the price of 'patriotic education' here.
A Secret State Plan for Pensions, Exposed
A new law could fundamentally alter how Russians access their pension plans. The only problem is, it's marked 'secret.' This week, our economy columnist Dmitriy Prokofiev breaks down what we know about the law so far and why the Kremlin is keeping it a secret.
THE NEW DRAFT LAW WILL BE SUBMITTED BY THE GOVERNMENT BY DECEMBER 15, and the secret seal won't be broken until then. "There is something within that new pension plan that people are not supposed to know before December 15. That is, the time when citizens will have to deal with the new composition of the State Duma," economist Dmitry Prokofiev writes for Novaya Gazeta. "And it is unlikely that the planned innovations will be in favor of the citizens. Otherwise, the government would have bragged about its ideas already," says Prokofiev.
RUSSIA'S PENSION PROBLEM HAS BEEN A MAJOR THORN IN PUTIN'S SIDE IN RECENT YEARS. In 2002 the government launched an attempt to move away from state-funded pensions to individual pension savings. But in 2014, the Kremlin' nationalized' a portion of people's personal pension savings and, instead of investing it, used it to shore up the state budget. Then, in 2018, protests erupted after the government opted to raise the retirement age. Around 800,000 people in Russia who would already be receiving a pension will now have to wait for these reforms. Putin's approval rating dropped precipitously as a result. The Kremlin, consequently, has a lot of reasons to hide what's in the new plan.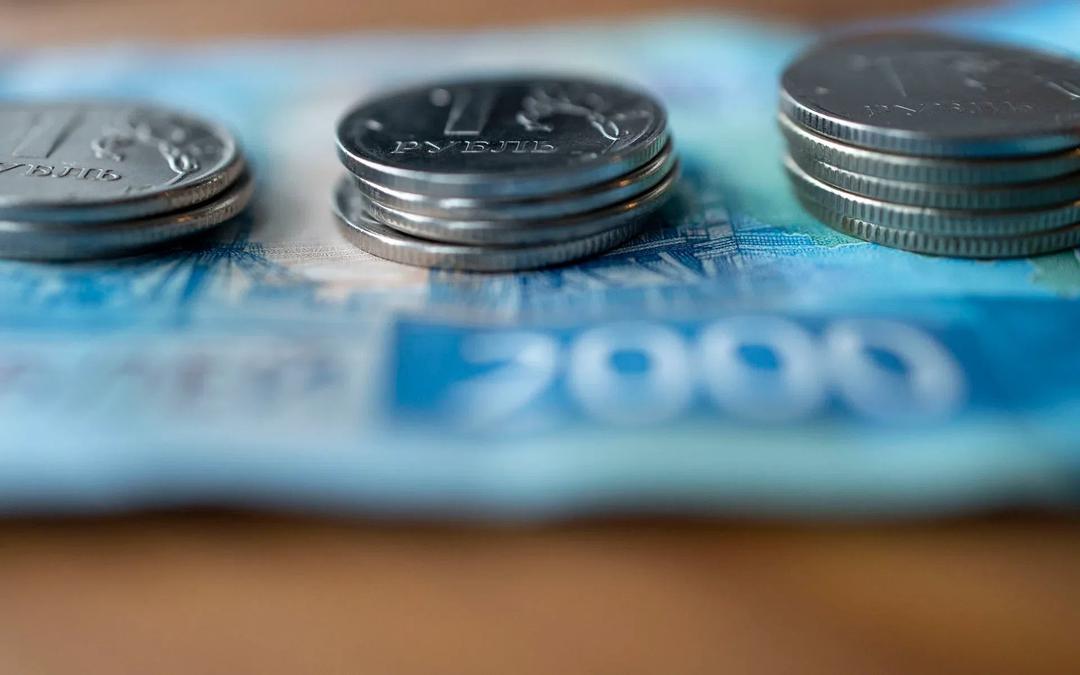 Photo: Arden Arkman / "Novaya Gazeta"
THERE'S AN IDEOLOGICAL ROADBLOCK FOR A SUCCESSFUL PENSION REFORM. Let's consider Russia's generous income from natural resources and the GDP dynamic over the last decade. There's no reason for Russian pensioners to starve, Prokofiev thinks. Suppose the country finally leaves the state-subsidized pension system behind. In that case, an average Russian has a good chance of accumulating a sustainable amount of pension savings during a life-long career. But something prevents the Russian authorities from helping people do this. The reason has less to do with economics and more with the Kremlin's ideological approach, Prokofiev explains.
THE RUSSIAN GOVERNMENT DOES NOT WANT TO CREATE CONDITIONS FOR CITIZENS TO ACCUMULATE MONEY ON THEIR OWN. If Russia's elderly population were thriving and independent, the government wouldn't have any leverage over this critical electoral demographic. This unwillingness to create the structural conditions for elderly Russians to thrive underpins the Kremlin's pension policies.
BACKSTORY. Russia's current pension system was initially created by the Soviet dictator Josef Stalin. The first pensions were awarded in 1928. But the authorities' priorities were immediately apparent: those who want state support in their old age must work for industrial giants in their youth. A pension was strictly dependent on the length and continuity of work experience. Most pensions during the Soviet period were small, between 85% and 50% of a person's salary. Things got only worse after the Soviet Union's collapse when Russian pensioners quickly turned into the most impoverished social group. The country went through several unsuccessful pension reforms in the last 20 years. According to the United Nations, around 20% of all Russian citizens will be over 65, the current age of retirement for men, by 2050. With a rapidly aging population, the Russian pension system's inability to reform remains one of the weakest aspects of Vladimir Putin's rule over the country.
Read Dmitry Prokofiev's analysis of Russia's secret pension plan here.
Other Top-Stories Russia Has Been Reading
One of our most-read stories this week was about the police reaction to a wave of politically themed videos on the social media platform TikTok. Apparently the police decided that young Russians need a lesson in law enforcement, and their initiatives were bizarre. In Nizhnevartovsk, some students were made to wear shields and helmets while other students threw balls at them. In Penza, the police investigated the social media posts of an eighth grader after the school principal flagged her as a potential extremist. And in Moscow, the police department released a video of its employees, featuring cake and candles, congratulating children on their criminal behavior. The students' responses were also amusing. Misha: "Yes, Investigative Committee, I will definitely do my homework on murder, theft, vandalism, and violence. Should I do it in written form or orally? "
Katya: "Thank you, dear Investigative Committee, for your faith in us! We will definitely meet your expectations! "
Ulyana: "Dear Investigative Committee, thanks for the congratulations and the cake, but I would have preferred the benefit of the doubt."
It's not all fun and games though. In one case, a 14-year-old is actually being held in an adult jail.
Thanks for reading!
To keep up with Novaya Gazeta's reporting throughout the week, you can follow us on [Facebook](https://www.facebook.com/novgaz/), [Twitter](https://twitter.com/novaya_gazeta), [Instagram](https://www.instagram.com/novayagazeta/), and [Telegram](https://t.me/novaya_pishet). Our video content is available on [Youtube](https://www.youtube.com/user/novayagazeta) and don't forget to visit our [website](https://novayagazeta.ru/) for the latest stories in Russian. _— The Novaya Gazeta Team_