Here what's in store for you this week:
As Russia gets overwhelmed with the new Covid wave, we document the collapse of already weak pandemic restrictions;
We return with a dispatch from a dilapidated arctic town, home to one of Russia's richest billionaires' businesses, but which receives minimal infrastructural aid;
We lift the lid on a new breed of oligarchs in Russian-controlled Eastern Ukraine;
Plus, a new investigation suggests that over nine million Russians will see their voting rights restricted this year.
Want to get the full story? Click the links below for full-length articles in Russian.
Collapsing Covid Restrictions, Explained
Russia is losing the battle with the new pandemic wave. Failed vaccination campaign made it almost impossible for the country to deal with the onset of more contagious Covid-19 variants. But this week, Novaya's Artem Raspopov examines how the collapse of poorly enforced pandemic restrictions contributes to the crisis.
COVID PASSES FOR SALE. On June 28, Moscow authorities banned visits to restaurants, cafes, and bars without a unique QR code — a stark turnaround from the back-to-normal lifestyle of the Russian capital in recent months. Officially, it can only be obtained by fully vaccinated against coronavirus (and the vaccine must have been domestically produced). However, we found it surprisingly easy to access dining options in the Russian capital. There's a booming business of bypassing the restrictions.
RUSSIAN DOCTORS REPORTEDLY SELL FAKE COVID-19 CERTIFICATES VIA TELEGRAM, with the possibility of being added to a state register of vaccinated people. Such a certificate would set someone back by around 4,000-5,000 rubles ($53-$67). It seems that the QR codes are just as easy to procure. Our correspondent managed to get one with just a simple antibody test. 'When they found out about new rules, some of my friends just bought fake vaccination certificates, got their QR codes, and kept hanging out at local bars,' Raspopov points out. Corruption plaguing the country means that new Covid measures won't effectively stop the virus, but they will further damage already struggling small businesses.
HALF MEASURES. New restrictions target spaces exclusively without summer terraces. Many restaurant owners believe this won't make dining safer: open-air spaces will get dangerously crowded, while places without terraces will be abandoned. Powerful anti-vax sentiments in Russia also mean more and more customers will openly defy the restrictions. You can look at the social networks of public catering enterprises, where people write in the comments: 'How could you buckle under this system?' In the Instagram accounts of popular Moscow establishments, there is an actual parade of anti-vaxxers — in comments under posts, people shame restaurants for 'following fascist orders' and declare the boycott of establishments.'
'I'm afraid there will be many conflict situations because of it,' says Mikhail Trubetskoy, a manager at one of Moscow restaurants. He adds that mass vaccination would be the only effective measure ending the chaos: 'otherwise it may not end for years.'
MEANWHILE, COVID WARDS ARE ALREADY OVERWHELMED. This week we published a letter by a patient fighting for his life in one of them. Sergey Kazarnovsky, a prominent Russian teacher, documents the hellish conditions of local doctors working around the clock to care for extremely ill patients.
'In April, I buried my second cousin. Covid. 81 years old. Immediately, my cousin and nephew ran to get vaccinated. A week later, the father-in-law died. 92 years old. His nurse got infected, too. I buried a close friend ten days later. A famous theater decorator. 60 years old,' Kazarnovsky writes.
He says that despite so much death around, many of the folks in his circles still harbor anti-vax sentiments. Kazarnovsky got vaccinated and still has ended up in a Covid ward. Doctors say he is still alive only because of the vaccine-produced antibodies.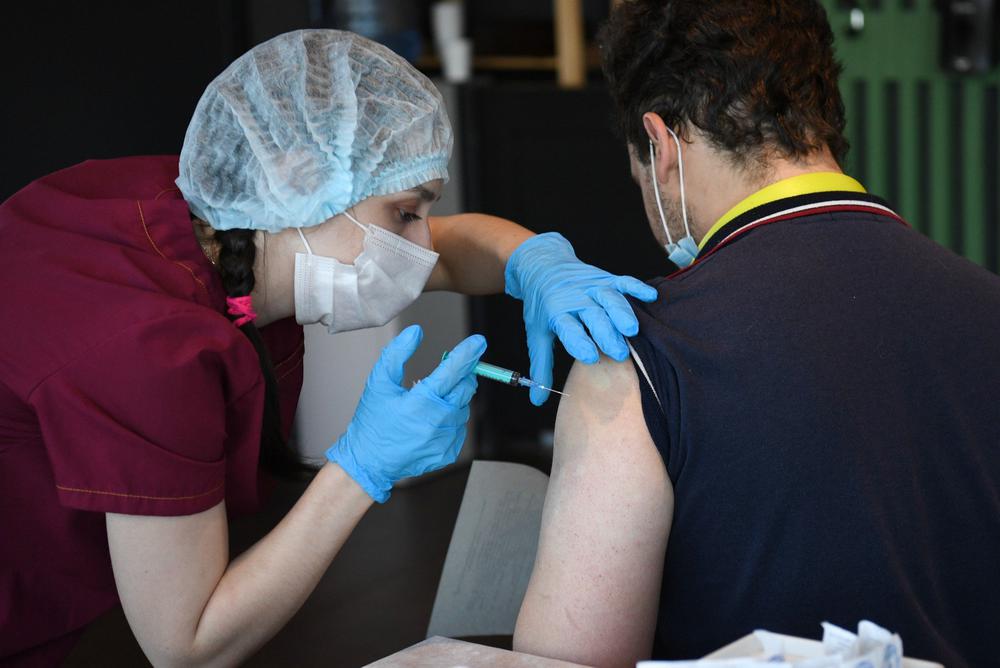 Read our report from our lucky, QR-code-possessing correspondent as he walks through Moscow's restaurants here, and a dispatch from one of the capital's hospital covid wards here.
The Oligarchic Pillage of the Arctic, Explained
The Arctic town of Kovdor, some 180 miles southwest of Murmansk, has a population of only 20,000. Known for its iron ore and phosphate mining industry, residents live their lives on the periphery of one of the world's largest quarries — visible even from space. The mine made several Russians ultrarich and sent billions in profits to Moscow. Yet, the town looks miserable and dilapidated. Novaya's Tatiana Britskaya brings a dispatch illustrating the country's extreme pillage of Arctic natural resources.
FROM SOVIET LABOR CAMPS TO OLIGARCHIC PILLAGE, EXPLOITATION MARKS THE TOWN'S HISTORY. Like many small towns across the Arctic and Siberia, Kovdor was born in the 1950s as a small work settlement catering to a single industry supported by the Gulag slave labor. The Soviet exploitation endeavor was later picked up by the burgeoning Russian oligarchy. Capitalism might have replaced communism, but the pillage rules remained the same: local mines would make few folks super-rich elsewhere but keep locals trapped in poverty.
AN OLIGARCHIC TRAP. At the moment, the Kovdor mine is owned by Andrey Melnichenko and his company EuroChem. According to Forbes, he's the 7th richest Russian billionaire and 96th richest in the world, with a fortune of $19.3 billion. The outlet states that the businessman is not a tax resident of Russia and lives on his yacht called 'A,' the most spacious sailboat in the world.
«What destroys you,» local miner Alexey Markiv concludes, is the fact that «they open Tower Bridge in London so Melnichenko's yacht can pass, but we live in shit here.»
Melnichenko is the only employer in the area, and as such, has a monopoly on local employment. «If you don't like it, leave: there is no other job in the district,» Markiv says. By his calculations, he was underpaid by 100,000 rubles ($1350) in vacation pay, and only after making a scene was he later given the money — in parts. Markiv has previously been involved in strike action.
BROKEN PROMISES OF REDEVELOPMENT. Despite mega-profits from the local mine, the town has been in decline over the years. The city is dotted with half-abandoned apartment blocks, unfinished construction sites that remain empty for years, and crumbling infrastructure. Just before the last elections, townspeople were shown a project to reconstruct the main square worth 800 million. «They promised to fill the ravine, lay out the sidewalk with tiles. But five years later, only a bust of Nicholas II appeared,» Markiv notes. «They promised to make Pobedy Street a pedestrian street, to pave it. Now there is still crooked asphalt and sparse greenery.»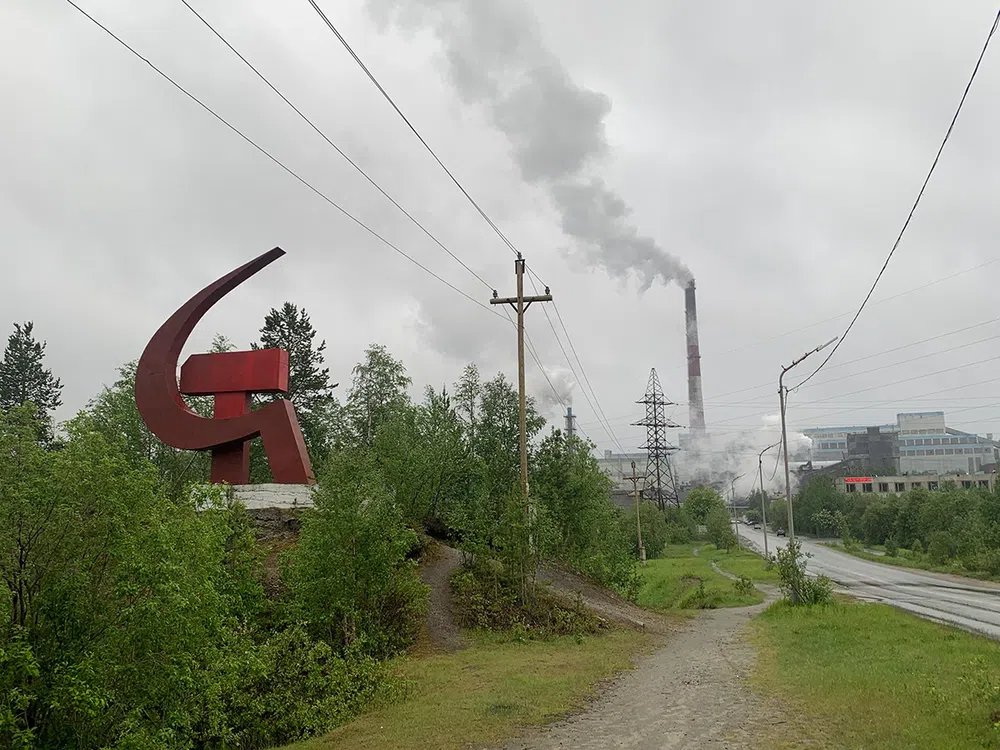 Photo: Tatyana Britskaya / "Novaya Gazeta"
BACKSTORY. The exploitation of Arctic and Siberian natural resources has been a source of wealth for all Russian ruling elites across history — from the monarchy to the Soviets and Putin's Russia. The wealth was siphoned from provinces to the capital, leaving local populations impoverished. With the collapse of the Soviet Union, Russian ruling elites got access to the international financial system and the ability to store their assets outside of the country. According to various estimates, the Russian ultra-rich siphoned between $1 and $1,5 trillion out of the country over the last three decades, laundering ill-gotten gains through countries such as Cyprus. The pillage of natural resources leaves behind worsening environmental degradation, while the Kremlin continues to dismantle few remaining environmental regulations. Local indigenous populations are forced to pay the increasing price for that, notably in the Arctic. These policies provoke more and more man-made ecological disasters and further abuse vulnerable indigenous communities.
Read our Kovdor dispatch, here.
New Breed of Oligarchs in Russia-controlled Donbas, Explained
Speaking of oligarchs, for seven years now, the self-proclaimed «Donetsk People's Republic» (DPR) has produced its own small collection of oligarchs. They are connected to regional leadership of the self-proclaimed republic, work with Russia and manage to conduct legal business in Ukraine. Novaya collaborated with our colleagues at Novosti Donbassa to bring you this special investigation into a new breed of oligarchs in Russia-controlled Donbas.
SEVEN YEARS IN THE MAKING. Before the war, Donbas was one of the oldest and largest industrial hubs in Europe. During the 1990s and 2000s, it became a breeding ground for ultrarich Ukrainian oligarchs — including the so-called Yanukovych Clan that had ruled the country before the 2014 revolution. Yet, since the start of the war in 2014, most of them have left the region. Power, influence, and large enterprises ended up in the hands of the leaders of the self-proclaimed «republics.»
A NEW, MOSCOW-BACKED, OLIGARCHIC DYNASTY HAS EMERGED. Dmitry Egurnov's LLC 'Master Trade,' for example, has made a name for itself as a kind of middle-man between Russian companies afraid to deal directly with businesses in the area and DPR markets. «Dmitry Egurnov belongs to the same circle of close acquaintances as the head of the 'DPR' Denis Pushilin. Besides, they are from the same city — Makiivka [around 15km from Donetsk],» Novosti Donbassa notes.
Egurnov's business has been responsible for distributing food products throughout the region, and his rise would have been impossible without some powerful ties both in Donetsk and Moscow.
«They cannot conduct their affairs without the patronage of the self-proclaimed authorities, previous or current. This is vital in a situation where there is no legal framework — where everything is accepted at the discretion of the top officials,» local analyst Vitaly Sizov says.
Egurnov sponsors various local initiatives, from football championships to fighting leagues, and participates in different 'working groups' under the so-called government.
ANOTHER LOCAL BUSINESSMAN, WITH ALLEGED TIES TO ORGANIZED CRIME, HAS ALSO HAD HIS NAME CROP UP A GREAT DEAL. Igor Andreev, whose assets were estimated at around $85 million in Ukrainian Forbes in 2011, has also become something of a local player with a trading house established locally that has links to his business. After the turmoil in eastern Ukraine, Andreev officially moved his business to Ukrainian-controlled territory while keeping his production plants in the Russia-controlled east. Despite their business prowess, though, today, Andreev and Egurnov are merely «convenient for the leadership of the self-proclaimed republics,» Sizov argues. But «they cannot influence anything.»
BACKSTORY. The so-called «Donetsk People's Republic» and «Luhansk People's Republic» remain home to 3,000,000 residents despite heavy fighting sporadically breaking out in the area. The breakaway territories became self-proclaimed statelets after the 2014 pro-democratic revolution in Ukraine. The separatist movement was part of the Kremlin attempt to preserve political and economic control over the country. As then-president Ukrainian president Yanukovych fled to Russia, Moscow annexed the Ukrainian region of Crimea while stoking unrest in the country's eastern regions — effectively establishing control over 7 percent of the Ukrainian territory. At the time, Russian state propaganda manufactured a false narrative of an ethnic divide in Ukraine. It has been using it as an excuse to keep meddling in Ukrainian affairs since then. Moscow has never officially acknowledged the invasion of Eastern Ukraine. Still, the presence of Russian troops on the ground is well-documented, including by Novaya. The seven-year war has left approximately 13,500 dead, 1.6 million internally displaced, and over 800,000 refugees.
Read the full investigation into the new dynasty of oligarchs in Russia-controlled Donbas here.
Photo: Nikolay Cherkasov / TASS
Other Top-Stories We Liked This Week
RUSSIA'S WAR ON OLD CAR TIRES.
One of our most read stories this week was Alexei Tarasov's op-ed on used car tires as street decoration. Across Russian cities and villages, old car tires are often used as flower beds, but are often also arranged to resemble swans or monsters. However, now Russian authorities are moving to ban them, alleging that they contribute to environmental pollution (as opposed to, say, local aluminium plants or power stations. "This is not about tires, but about the fantastic cynicism of Russian authorities," says Tarasov. The potential cost remains unknown to the public. "They forgot to clarify how many billions from the budget will be allocated for the fight against rubber swans," he notes.
New investigation reveals the record number of Russian voters facing voter disenfranchisement in the wake of upcoming parliamentary elections. At least nine million people have been deprived of the capacity to stand for election. Since Russia's recent introduction of its "law against FBK" (opposition activist Alexei Navalny's anti-corruption foundation is now included in the list of extremist organizations) the number is set to multiply. Recent legislation against FBK bans people from participating in elections if they are involved in "extremist" organizations as defined by the state. Due to its vague wording, hundreds of thousands of people who support FBK may fall under the law.