Here what's in store for you this week:
We talk to Navalny's doctors and they warn that his death 'could be imminent'. We also interviewed a close Navalny ally who fled to the E.U., fearing for his life;
We asked independent Russian experts about the new round of American sanctions: nobody is very impressed. Some are even shocked at their timidity;
Plus, the Kremlin is restricting Russian tourists from traveling to their beloved vacation hotspots in Turkey. The bitter fallout from the fading Putin-Erdogan bromance is clearly intensifying.
Want to get the full story? Click the links below for full-length articles in Russian.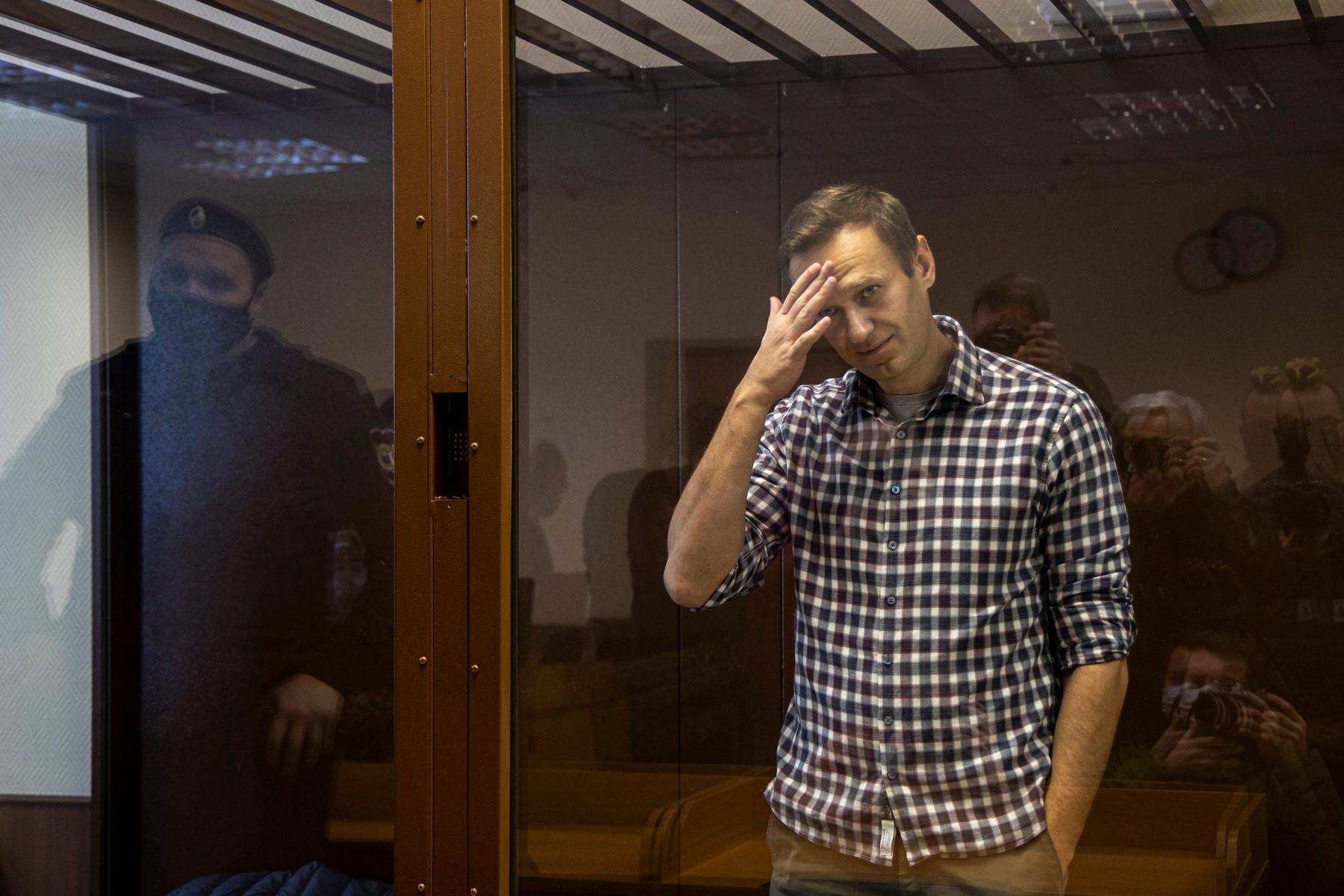 Alecey Navalny in Moscow court, February, 2021. Photo by Arden Arkman / Novaya Gazeta
Navalny's Life Hangs By a Thread
It is hard to establish all the facts about the health of jailed Russian opposition leader Alexei Navalny since Russian authorities ensure he remains as isolated as possible. Navalny's family, lawyers, and private doctors have all struggled with gaining proper access to him while he currently remains incarcerated in a penal colony some 100km east of Moscow. This week we spoke with one of his doctors to fact-check claims about Navalny's deteriorating health. His death could be imminent, the doctor warns.
'COULD BE DEAD WITHIN DAYS.' Around a week ago, Yulia Navalnaya, Navalny's wife, warned that his weight had plummeted, and he finds it hard to talk. Navalny has reportedly lost 17kgs since his transfer to a penal colony. According to Navalny's lawyer Vadim Kobzev, the authorities moved Navalny to an isolated ward in a prison hospital over the weekend and put him on a glucose drip. His doctors have been pleading with authorities to allow them to admit him as a patient.
"There are problems in his legs; he also has problems in his hands, decreased sensitivity, and a burning sensation. It could be polyneuropathy [a form of nerve damage - ed.], which may progress," says Yaroslav Ashikhmin, Navalny's personal physician.
NAVALNY'S SEVERELY DETERIORATING HEALTH IS 'UNUSUAL'and cannot be exclusively attributed to his three-week-long hunger strike, Ashikhmin tells us. For example, he points out the high levels of potassium in Navalny's tests, which is suspected to be the source of the problems in his hands: "In all the medical documents that I have seen, there is no explanation as to why the patient has numbness and a burning sensation in his hands," Ashikhmin says.
REPORTED LACK OF ADEQUATE THERAPY. "At present, Navalny's health condition has been assessed as satisfactory," says a recent statement on the regional prison service's website. "He is being examined by a general practitioner every day,' the statement reads. However, vitamins and glucose are the only treatments that prison doctors currently prescribe Navalny, Ashikhmin says. This is definitely not adequate given his current condition. "I cannot believe that a person in such a condition, with a painful syndrome, was only prescribed vitamins," cardiologist Yaroslav Ashikhmin, Navalny's personal physician, said in a statement published by Novaya Gazeta.
MEANWHILE, NAVALNY'S CLOSEST ALLY FLEES RUSSIA. In a surprising turn of events, Vladimir Milov has fled to Lithuania, fearing for his life. Novaya spoke with him right after that. Milov tells us that he made the decision to depart Russia in January, when "it became clear that all the key people affiliated with Navalny's team were being arrested en masse." "I will, of course, return as soon as possible," he insists.
THE KREMLIN USES FRIENDLY OLIGARCHS TO HARASS NAVALNY'S ALLIES. The prospect of multiple lawsuits by 'Putin's fixer' Evgeny Prigozhin was another deciding factor for Milov to flee. The oligarch sued Navalny and Milov for defamation in December, and earlier in April, a Moscow court ruled that Milov should pay Prigozhin 350,000 rubles (around $4,500). Milov expects future expensive lawsuits totaling millions of rubles. (By the way, Novaya has its own share of legal battles with Prigozhin over our investigations into his broad-spectrum actions as a Kremlin' fixer'.)
IT IS UNCLEAR WHAT'S NEXT FOR MILOV. "We are undertaking some activities, which, to be honest, I would not like to talk about in detail because of their delicate nature," he noted. Vilnius has been a hot destination for people fleeing Russia in recent years, with prolific dissidents such as Vsevolod Chernozub — a Novaya Gazeta columnist — and researcher Aleksandr Morozov taking up residence in the largest Baltic state.
BACKSTORY. In February, Navalny was charged with violating the terms of his parole concerning a years-old embezzlement case (2014), thought to be politically motivated, and sentenced to more than two years in a penal colony. His arrest and incarceration came almost immediately after returning to Moscow, after recovering from a poisoning attempt and subsequent hospitalization in Germany. Navalny's new detention sparked mass nationwide protests. Russia's security forces locked up thousands of protesters who took to the streets across the country in the aftermath. That was followed by mass arrests of Navalny's supporters and a broader crackdown on Russian civil society and journalists. ](https://novayagazeta.ru/articles/2020/10/21/87624-russia-explained)[The European Union previously sanctioned six Russian individuals and one entity in response to Navalny's poisoning and prohibited chemical weapons. The Russian authorities have not taken responsibility for the poisoning, and no criminal case has been initiated. Navalny's poisoning is part of a pattern, however. Numerous Kremlin critics and Russian dissidents have fallen ill or been killed by poison.
Read a full interview with one of Navalny's doctors here and the full interview with Milov here.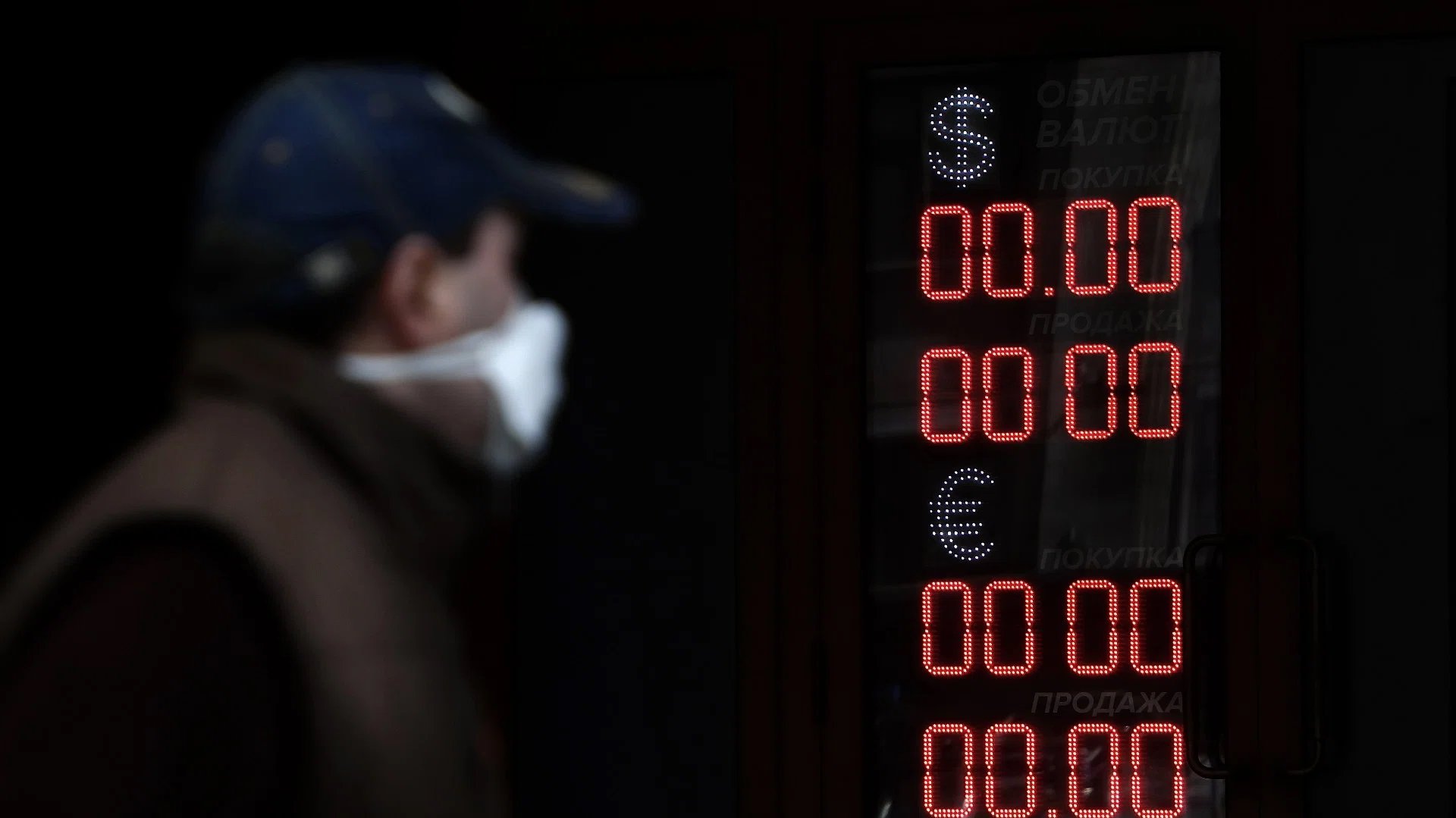 Photo: ЕРА
US Sanctions Fall Short
The U.S. has rolled out a new series of sanctions targeting the Kremlin for its involvement in cyberattacks and American election interference. 'Meh,' say independent Russian experts. This week, we explain why nobody in Russia is particularly impressed with the new fiscal restrictions.
SANCTIONS ARE MUCH WEAKER THAN ANTICIPATED. We sought out independent Russian experts. Most of them echoed similar sentiments: they expected a harsher round of sanctions. Specifically, they had anticipated a total ban on any transactions involving federal bonds (OFZ), which would wreak greater havoc among foreign investors and severely damage the Russian ruble. Instead, Russian bonds will still be available for American investors on secondary markets.
'American organizations won't be able to buy new issues of Russian sovereign debt in the primary market. This will hardly impact the state of the Russian budget as the new bond issues are largely bought out by Russian state banks, anyway. Furthermore, American investors will still be able to participate in the secondary market and purchase Russian debt without any restrictions,' Novaya's economics editor Arnold Khachaturov says.
"THE MILDEST VERSIONS OF SANCTIONS WERE ADOPTED," Sergei Romarchuk, the chief trader at Moscow-based Metallinvestbank, tells us. Because of it, the threat of sanctions became more expensive for the Russian economy than actual sanctions, Romarchuk says. Their anticipation has already depressed the price of Russian bonds earlier this April. Romarchuk is convinced that the current sanctions will barely impact the Russian state budget at all. Restricting Russia's access to the international SWIFT banking system would be a much more painful blow to the Kremlin, he adds.
'THIS IS A MILD SCENARIO. Banning bond purchases at secondary markets would bring a powerful economic shock — comparable to the crisis during the Great Recession. Instead, the current measures will affect the share of foreign bond buyers insignificantly,' says Timur Nigmatullin, an investment manager with Russian brokerage 'Otkrytye Broker.' The Russian government will compensate the lost money with Russian bond buyers, who will then resell the bonds to American buyers on secondary markets, he adds.
BACKSTORY. This is the second wave of Russian sanctions coming from President Biden's new White House administration. Last month the U.S. slapped sanctions on seven Russian officials and more than a dozen government entities over Navalny's poisoning. The latest round was instigated and preceded by the massive Kremlin troop buildup along Ukraine's border, the deteriorating health of jailed opposition leader Navalny, and Biden pledging his support Ukrainian President Volodymyr Zelensky and publicly calling Putin a "killer." However, their relative weakness could signal Washington's refusal to walk the walk and maybe read as an attempt to sustain dialogue. Since 2014, the U.S. and Europe have imposed numerous rounds of sanctions against Russia in response to various malign activities, including Russia's invasion of Ukraine, U.S. election interference, human rights abuses, and the use of chemical weapons.
Read full reactions of Russian financial experts on new U.S. sanctions here.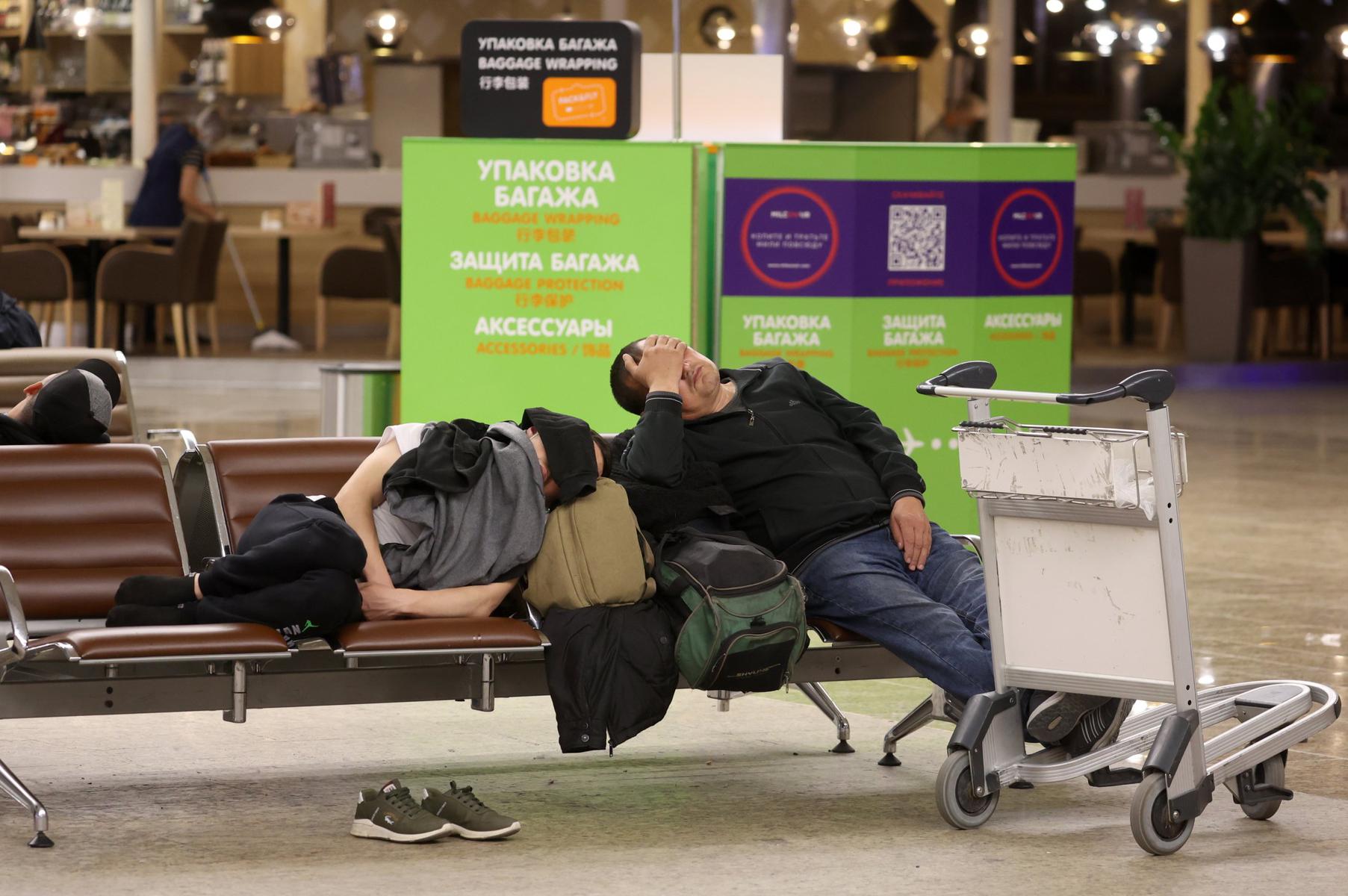 Photo: Vladimir Gerdo / TASS
Kremlin's Flight Ban to Turkey, Explained
Officially, Russia has suspended all flights to Turkey to stifle the spread of COVID-19. In reality, few doubt that this is another sign of worsening geopolitical rivalry. This week we examine another episode of a messy fallout from a floundering bromance between Putin and Erdogan.
THE MOVE REEKS OF GEOPOLITICS. The Kremlin imposed the ban just a couple of days after Turkish President Tayyip Erdogan confirmed his determination not to recognize the Russian annexation of Crimea. The polarizing pledge came shortly after a meeting between the Ukrainian and Turkish presidents in Ankara — a major geopolitical win for a Kyiv currently under pressure from Russia's thousands-strong military flex on Ukraine's borders. Even though the Russian government later denied any political motivation behind the move, the vice-speaker of the Russian Senate later dubbed the move as a test of patriotism for Russians.' "After President Erdogan's statements on Crimea, vacation in this country should become morally unacceptable for Russian citizens," he said in a Facebook post.
GREED IS ALSO INVOLVED. The ban might look like petty geopolitics, but it most likely just a cynical cash grab by the state, insists our economics columnist Dmitry Prokofiev in this week's op-ed. "The decision to temporarily restrict flights to Turkey … strangely coincided with a preliminary set of Russian Central Bank statistics on the balance of payments for the first quarter of 2021," Prokofiev writes. "The financial regulator recorded a sharp acceleration in heavy capital flight," he points out. Considering how much Russians spend during their annual holidays in Turkey (this is the most popular holiday destination for Russians, and they comprise the largest proportion of foreign tourists there), it is not surprising that the government would like to cap the cash flight, Prokofiev argues.
REGULAR RUSSIANS BEAR THE PRICE. Regardless of geopolitics or greed, the move turned into a massive inconvenience for more than half a million Russian citizens who have already booked trips to Turkey. Around 20,000 Russian tourists have also ended up temporarily stranded on Turkish resorts.
"This is already inducing some sort of hysterical laughter in me. I've been saving up for this trip for a long time, saving meager amounts from a school teacher's salary, only for them to now tell me: "Sorry, Erdogan did not recognize Crimea as Russian, so Turkey is closed to you." I have not yet been told what they will do with my tickets, whether they will return my money or give me some sort of exchange. I will absolutely not be following our authorities' lead and spending money at Russian resorts, " Alina, a Russian-language teacher from Moscow, tells our reporter.
TURKISH ECONOMY WILL ALSO SUFFER. Flight cancellations significantly deprived Turkey of tourism revenue in an otherwise difficult tourist season, with Russia in recent years has been the primary source of tourist traffic. More than 2 million people visited Turkey from Russia last year, despite coronavirus pandemic restrictions. It's a veritable case study on public policies, conspiracy theories, and economics, says Prokofiev.
BACKSTORY. Both Erdogan and Putin have deployed a similar power-grabbing rule in recent years, crafting a perfect breeding ground for mutual respect and mistrust. Original warm relationships between the two rulers of the early 2010s took a sour turn after Putin's military intervention to support the Syrian dictator Bashar al-Assad in 2015. The Kremlin's military gambit in Syria turned into Ankara's growing headache and contributed to the worsening humanitarian and military situation at the Turkish border and empowered local Kurdish separatists. The floundering Putin-Erdogan bromance has wholly fallen apart during 2019-20 as the two regimes would take opposing sides in their military involvement with the Libyan civil war and the Nagorno-Karabakh war.
Other Top-Stories Russia Has Been Reading
#### **KREMLIN CRACKDOWNS ON STUDENT JOURNALISM** On Wednesday, Russian authorities raided a student magazine [DOXA ](https://doxajournal.ru/zaiavlenie-doxa-ob-obiske)and the homes of some of its journalists, seizing phones and laptops. Our colleagues were targeted for covering anti-government protests and the Navalny solidarity movement. More than 250 academics from around the world have now [signed a statement](https://docs.google.com/forms/d/e/1FAIpQLSddAcaGC4MUidRXhWaLuzdVNL4PLsPwBu3Yvfdnm0lIrcEmHw/viewform) in support of DOXA's journalists and the persecution they are currently facing. Novaya ran a frontpage devoted to a [solidarity campaign](https://novayagazeta.ru/issues/3108) with the persecuted journalists. We believer that their targeting is part of a [larger drive to stamp out both political dissent and independent investigative voices](https://novayagazeta.ru/articles/2021/04/14/russia-explained-74) in Russian media. #### **OUR INVESTIGATION INTO GERMAN-BUILT SUPERYACHT OF RUSSIAN PROMINENT OLIGARCH** Russian billionaire and Chelsea FC owner Roman Abramovich's [500-million-euro superyacht ](https://novayagazeta.ru/articles/2021/04/16/da-bort-on-klast-na-vsekh-khotel)Solaris, has set sail. It has more than 40 cabins and is over 460 feet in length. A fresh, in-depth Novaya Gazeta investigation explores its completion at the Lloyd Werft shipyard in Bremerhaven, Germany and the strict privacy agreements imposed on those involved in the project. The German shipyard itself is shrouded in a mysterious past, with Vitaly Yusufov, son of former energy minister Igor Yusufov, being closely involved since 2009. #### **CZECHIA ATTACKS** Exposed Russian involvement in the 2014 ammunition depot explosions in Czechia buried one of the Kremlin's strongest political alliances among EU member states, torpedoed a 6-billion nuclear energy deal and ended any chance of Sputnik-V orders. In [a special dispatch from Prague](https://novayagazeta.ru/articles/2021/04/20/na-grebne-vzryvnoi-volny), a Czech journalist Michal Musil looks at a devastating geopolitical and reputational fallout for the Kremlin from what it now looks like a poorly-executed operation by the same GRU agents who were also involved in the Salusbury terrorist attack.