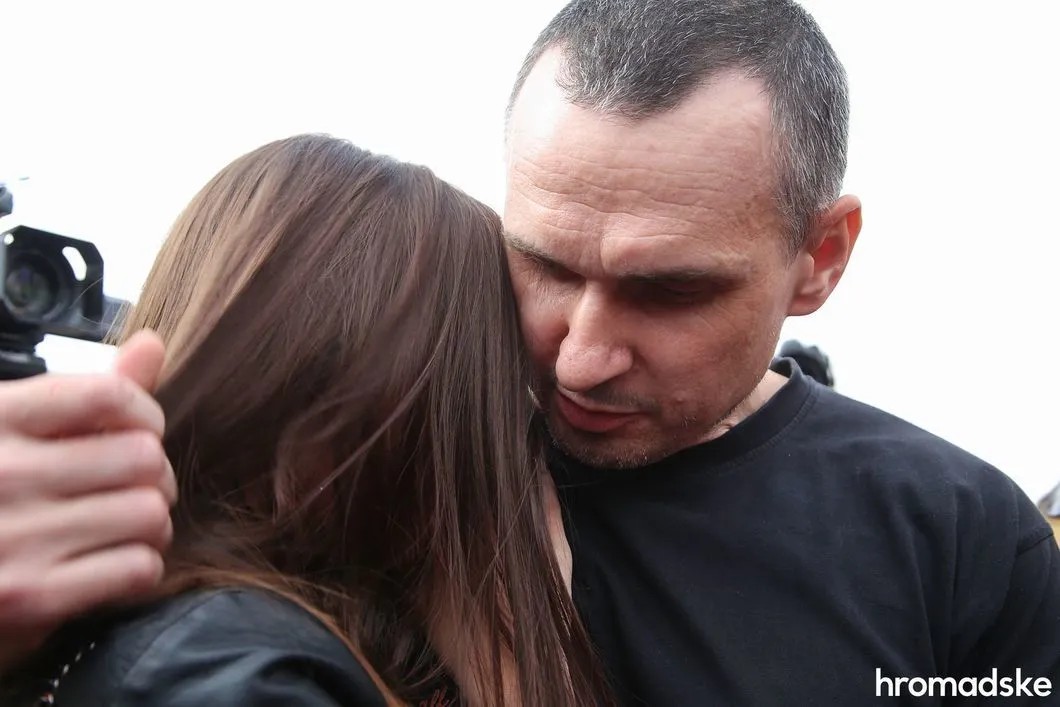 Oleg Sentsov with his daughter. Photo: Andrew Novikov / Hromadske
The new English language newsletter from Novaya Gazeta. Our newsletter brings you a weekly overview of our finest journalism covering and explaining key news events across Russia. This includes a rundown of Novaya Gazeta's high-stakes investigative reporting, as well as analysis aimed at answering your questions about the latest developments. In short, we bring you everything you need to know about Russia, courtesy of a legacy newspaper in the country.
A unified election day, the prisoner exchange between Russia and Ukraine, the crackdown on protests and Alex Gibney's new Khodorkovsky biopic.
Want to get the full story? Click the links below for full-length articles in Russian.
Russia's Local Elections, Explained
A unified election day took place across Russia's 85 federal subjects on September 8. Sixteen regions elected governors, while the remainder elected their municipal and city parliaments. In order to prevent a repeat of last year's protest vote situation (where citizens in several regions voted against the government's official candidates, so they couldn't falsify the vote), this time potential competitors in Moscow and St. Petersburg were prevented from joining the race and were not allowed to register as candidates at all. That being said, the government's morally bankrupt election strategies proved less effective this time around.
Moscow.The most attention was focused on the capital, where the 10 percent of the country's population that lives there experienced a summer of elections scandals. 92 percent of registered residents took advantage of the city's online voting option, but turnout was only about 21.8 percent (which is lower than in 2014).
Meanwhile, Alexei Navalny's concept of «smart voting» proved successful, returning opposition candidates to Moscow's political playing field.
However, in terms of representation the results are largely insignificant. United Russia still won 25 seats, while the Communist Party now has 13, Yabloko took 4 and A Just Russia holds 3. This leaves the relationship between the government and the opposition at 25 to 20, which is hardly a balance, especially given that the Communist Party and A Just Russia represent a government-sanctioned opposition. But after the Moscow polling stations closed, the Russian Public Opinion Research Center (VCIOM) refused to publish exit polls. This was the first sign that the Moscow City Duma elections did not go the way the authorities had hoped.
Backstory.In recent years, the official strategy for maintaining stability has been to fundamentally ban all candidates not approved by the Kremlin from participating in politics. With the addition of influence peddling and fighting within the opposition, this has resulted in the Moscow City Duma not having a single politician representing the mood of the citizens. The 2017 municipal election saw the beginning of a struggle among Muscovites for representation in government. And over the past few years, people have seen that there can be opposition figures among politicians. Yulia Galyamina and Ilya Yashin, for example, remain successful and well-known municipal deputies in their districts. But when faced with the possibility of an opposition victory, the authorities decided on a clean-sweep of the polling stations. This resulted in missing signatures, demonstrations, paddy wagons and special detention facilities – all of which is continuing with high-profile criminal cases and sentences. At the same time, Alexei Navalny launched his "smart votin» project, aimed at mobilizing voters who did not have candidates, because their preferred candidates were not allowed to run in the elections.
Want to know more about the elections? Read the full story in Russian here.
Russia — Ukraine Prisoners Exchange, Explained
Russia and Ukraine carried out a prisoner exchange in the 35-for-35 format on September 7. The Ukrainian sailors captured after the November 2018 Kerch Strait incident were returned home, along with a group of Ukrainian citizens accused of committing crimes on Russian territory. The most well-known among the Ukrainian political prisoners is Oleg Sentsov – the Crimean-born film director who spent over five years in the Russian prison system. The exchange took place as the result of a pardon, which was read out on the bus on the way to the airport. Ukrainian President Volodymyr Zelenskyy met Sentsov and the rest of the freed Ukrainians as they disembarked from the airplane in Kyiv.
An Instrument Of Geopolitics.The exchange of prisoners seems to have been welcomed by everyone – regardless of their political views. President Putin did not go to Moscow's Vnukovo International Airport to meet the prisoners returning from Kyiv. Instead, the most well-known prisoner returned to Russia, journalist Kiril Vyshinsky, was greeted at the airport by the head of Russia Today, Dmitry Kiselev. Meanwhile, there was no propaganda attempt to make heroes of the other people returned to Moscow – most of whom are citizens of Ukraine – and they were met at the airport by the Russian Intelligence Services. What's more, prior to their return, Russia's information agency released a group photo of some of the returnees with their faces blurred out.
Backstory.The exchange was supposed to take place a long time ago, but was disrupted by a number of factors such as the ongoing hybrid war, bad relations between Putin and Ukraine's former President Petro Poroshenko, as well as what appeared to be a lack of suitable «payment" for their citizens from the Ukrainian side. An opportunity for Kyiv to make an exchange offer appeared just a few months ago, after Vladimir Tsemakh was captured in Donetsk. A former anti-aircraft defense commander from the so-called Donetsk People's Republic, Tsemakh is considered a key witness (and possible suspect) in the downing of Malaysian Airlines flight MH17 over Donbas in 2014. According to Zelenskyy, excluding Tsemakh from the exchange list threatened to disrupt the negotiations as a whole.
Read the full story on the prisoner exchange between Russia and Ukraine here.
---
Crackdown on Moscow Protesters, Explained
The Moscow City Duma elections were the long-awaited finale to a wave of mass protests – met with police brutality – that captured international attention over the summer. However, the most important crackdown took place off the streets and away from the cameras – in the city's courtrooms. And it's not over yet. Just last week, a number of high-profile sentences were handed down in a criminal case against «mass rioting,» which was initiated after the largest unsanctioned protest of the summer on July 27.
Of the 1,388 people detained on that day, 15 were arrested on "mass rioting" charges, although there were no signs of «rioting» during the protests
(under this article «rioting» includes arson, clashes, overturning cars and violence against police officers). In addition, several cases were opened in response to mild violence against police officers.
Targeting Key Opposition Figures.The opposition candidates themselves were essentially locked out of the political process. Municipal Deputy Yulia Galyamina received three consecutive ten-day administrative arrest sentences, while Dmitry Gudkov received 30 days and then an additional 10 immediately afterwards. The record-holder was Municipal Deputy Ilya Yashin, who received five ten-day terms back-to-back. He was released on Saturday September 7 – the «day of silence» before the election. Alexey Navalny was also put under administrative arrest: he received a 30 day sentence and, to his surprise, was not immediately detained following his release.
Harsh Sentences As Negative Reinforcement.The authorities harshly suppressed the protests, handing down the first sentences in the July 27 case last week. Fifteen people were arrested in total, four of whom had their charges for «mass rioting» suddenly dropped on Thursday. One of the defendants – a student by the name of Egor Zhukov – was charged with «inciting extremism.» There is no exact definition of extremism under Russian law and so this term is typically used to suppress inconvenient political activists.
According to experts, Egor became a victim of too much support – after hundreds of people vouched for him and over 300 hundred professors and teachers signed a letter in his defense.
While Egor was later transferred to house arrest, others accused of violence against government officials remain in jail and have already received harsh sentences or are awaiting trial. That being said, despite these politically motivated cases aimed at discouraging protests, a recent poll from the Levada Center revealed that 20 percent of respondents were ready to participate in protests, while one-third approved of the demonstrations.
For more articles on this summer's crackdown on protests, visit our website.
---
Nothing Is True And Everything Is Possible: Mikhail Khodorkovsky On Citizen K
The director Alex Gibney – who Esquire named the "most important documentarian of our time" – is presenting his new, two-hour political thriller about Russia's most famous exile. Through the story of Khodorkovsky and his fight against Putin, Citizen Ktries to make sense of how power works in Russia.The director was refused an interview with Putin for the film – but Mikhail Khodorkovsky recorded dozens of hours of footage.
«I wanted to see the country where 'nothing is true and everything is possible',» he told Novaya Gazeta, quoting journalist Peter Pomerantsev.
For Gibney, the figure of Khodorkovsky and his path from oligarch to political dissident is interesting because of its contradictions. «Khodorkovsky may pursue personal interests, maybe his only desire is to return to power in Russia. And at the same time, I am shocked by his idealism,» Gibney said. «After the chaos of the nineties, Russians are not likely to ever elect an oligarch. Nevertheless, one can admire what he sees as his mission: to return and play a role in the transformation of Russian towards democracy.»
Novaya Gazeta watched Citizen Kwith its subject. For his commentary, read the full interview with Mikhail Khodorkovsky in Russian here.
---
Thanks for reading!To keep up with Novaya Gazeta's reporting throughout the week, you can follow us on Facebook, Twitter, Instagram and Telegram. Our video content is available on Youtube and don't forget to visit our websit for the latest stories in Russian. Until next time!
The Novaya Gazeta Newsletter Team